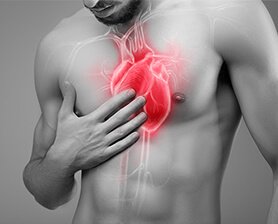 What is coronary heart disease?
Over time, a fatty material called atheroma can build up inside your coronary arteries. This process is called atherosclerosis. Eventually, your arteries may become so narrow that they can't get enough oxygen rich blood to your heart.
If a piece of atheroma breaks off, it can cause a blood clot form. This clot can block your coronary artery and cut off the supply of blood and oxygen to your heart muscle. This is known as a heart attack.
What are the symptoms of coronary heart disease?
Coronary heart disease (CHD) develops slowly over time and the symptoms can be different for everyone. Some people don't know they have CHD before they have a heart attack.
Angina is the term used to describe the most common symptoms of CHD. These include:
chest pain
shortness of breath
pain travelling through the body
feeling faint
nausea.
What increases my risk of coronary heart disease?
There are several risk factors that can increase the risk of developing CHD. These include:
high blood pressure
high cholesterol
diabetes
smoking
being overweight
not doing enough physical activity.
Risk factors you can't control include:
family history
age
ethnic background.
Living a healthy lifestyle can help lower your risk of developing CHD. There are lots of small and easy changes you can make. Learn how to reduce your risk.
How is coronary heart disease diagnosed?
Your doctor will be able to tell whether you have coronary heart disease if you're experiencing symptoms of angina.
electrocardiogram (ECG)
echocardiogram
chest x-ray
coronary angiogram.
CT Calcium Score
You can have a free NHS health check to assess your risk of coronary heart disease if:
you're between 40 and 74 years old and live in England
you're between 40 and 64 and live in Scotland
you live in Northern Ireland (where this is known as a cardiac risk factor assessment).
Free NHS health checks to assess your risk of CHD are not currently offered in Wales, but you can still discuss any concerns with your GP or another healthcare professional.
The health check usually takes place at your GP surgery. Your healthcare professional will check your blood pressure and cholesterol levels and talk to you about your lifestyle. Based on the results, they'll give you practical advice about keeping healthy.
What is the treatment for coronary heart disease?
Your doctor will discuss treatment options with you, depending on the type of heart problem you have. This may include:
medication – to help control your symptoms
coronary angioplasty
heart bypass surgery.
Whether or not you have CHD it's important to make a healthy lifestyle choices in order to protect your health.
Coronary heart disease risk in women
Some people think that CHD only affects men, but it affects women as well. If you've lived with a heart condition all your life, been diagnosed or decided you want to make your heart health a priority, find everything you need in our women and a heart conditions support.
We offer all the diagnostic tests which can detect CHD. Please call us on 020 7580 3145 or email info@londoncentreforadvancedcardiology.com to book.