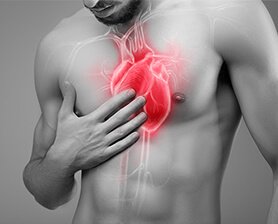 Life is unpredictable, and health concerns can arise when we least expect them. One of the most alarming cardiac conditions is known as Sudden Death Syndrome (SDS). This condition, as its name suggests, can lead to unexpected and tragic outcomes. In this blog post, we'll explore what SDS is, its potential causes, and why it's crucial to prioritise regular cardiac health check-ups to catch and address such conditions early.
Understanding Sudden Death Syndrome
Sudden Death Syndrome is a term used to describe a sudden and unexplained death that occurs within hours of the onset of symptoms. It is a rare but incredibly serious condition that can affect seemingly healthy individuals of all ages. What makes SDS particularly unsettling is its sudden nature, as there may be no prior warning signs or symptoms.
Potential Causes and Risk Factors
Research suggests that Sudden Death Syndrome is linked to underlying heart conditions, such as arrhythmias (abnormal heart rhythms) or structural heart abnormalities. Some individuals may have genetic predispositions that increase their risk. Other factors like extreme physical exertion, high stress levels, and certain medications may also contribute to the occurrence of SDS.
The Importance of Getting Checked Out
The tragic reality of SDS is that it often strikes without warning. However, there are steps you can take to reduce your risk and increase your chances of early detection and intervention. Here's why getting checked out regularly is crucial:
1. Early Detection: Regular cardiac health assessments can help identify underlying heart conditions or risk factors. Early detection provides an opportunity for medical intervention and lifestyle changes that can mitigate the risk of sudden cardiac events. We offer a wide range of cardiac check-up packages at the London Centre for Advanced Cardiology, please browse our website for more information. 
2. Risk Assessment: Our experienced doctors can assess your risk factors for heart-related conditions based on your medical history, family history, and lifestyle. Understanding these risks allows for personalised prevention strategies.
3. Lifestyle Modification: Even if you are seemingly healthy, medical check-ups can identify areas where lifestyle changes, such as dietary modifications, exercise routines, or stress management, can improve overall heart health.
4. Medication Management: If an underlying heart condition is identified, our medical professionals can prescribe appropriate medications to manage the condition and reduce the risk of sudden cardiac events.
5. Peace of Mind: Knowing that you are actively monitoring your cardiac health and taking steps to reduce your risk can provide peace of mind, reducing anxiety and stress that may contribute to heart problems.
Our Verdict 
Sudden Death Syndrome serves as a stark reminder of the importance of prioritising our health. While it's impossible to eliminate all risks, regular medical check-ups and proactive health management can significantly reduce the chances of experiencing sudden health events.
By taking the initiative to get checked out and discussing any concerns or family history of heart problems with a doctor, you can work towards a healthier, happier future. Remember, your health is your most valuable asset, and investing in it through regular check-ups is a small but crucial step towards a longer and more fulfilling life. Contact us today on 020 7580 3145 to book your heart check-up!