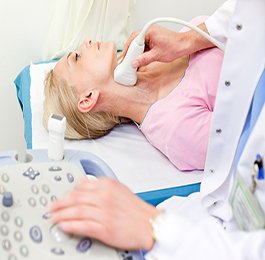 A carotid artery ultrasound is a scan that uses ultrasound waves to examine the carotid arteries located in the neck. This test can show narrowing or possible blockages due to plaque build-up in the arteries due to coronary artery disease.
This is scan is recommended if you have any of the factors which increase your risk of stroke including:
High blood pressure
Diabetes
High cholesterol
Family history of stroke or heart disease
Recent transient ischaemic attached (TIA) or stroke
Coronary artery disease
At London Centre for Advanced Cardiology, we can offer same day appointments for your carotid artery ultrasound in London.
We provide a copy of the full report at the end of your test, and the results are explained by a consultant. Should any issues be found, we can organise a consultation with a specialist or further tests promptly.
To book your carotid artery ultrasound in London, call us on 020 7580 3145 or click on the button below.

Questions? Call 020 7580 3145